Research indicates that after open-air lessons students are more engaged in the discussed topics and show a higher level of concentration and focus. Studying outdoors also has a positive effect on students' physical and mental condition, improving their cognitive abilities, general well-being and health. That's why, maybe it is worth arranging a place to conduct lessons in the school yard? We offer two sets of furniture to design a functional outdoor classroom. Each includes comfortable benches and tables, flower pots, a chalk board and sun shades.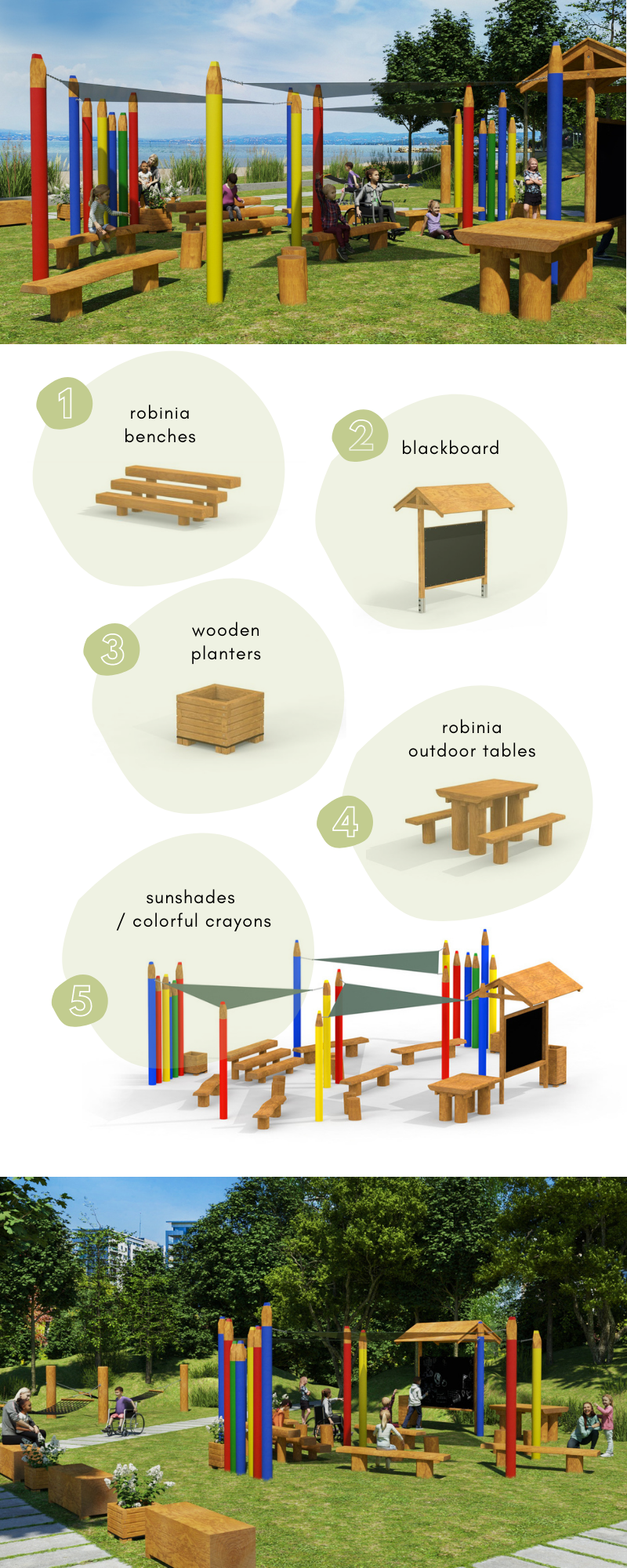 But before designing an outdoor classroom, let's check our few tips:
The proximity of nature inspires us to choose natural materials such as wood. The benches made of robinia wood look especially beautiful and, moreover, they are extremely resistant and durable.
The proximity of a school building.
The outdoor classroom should be situated close to the toilet and first aid in case of an accident. What's more, if it suddenly starts raining, students can quickly take cover .
The desks where the students are seated should be placed close enough so both the children and a teacher can hear each other very well.
Inclusiveness and accessability.
The open-air classroom should provide wheelchair-friendly solutions to improve accessibility such as a comfortable adjustable desk and a level space.
In order to protect children and teachers against the scorching sun/heat or wind, the area should be covered with sun shades or a roof (e.g. a shelter).
A locked hut in a close proximity to the classroom is always useful to store things that are needed during outdoor lessons, e.g. chalk or other teaching aids.
Outdoor lessons are also a good opportunity to develop children's respect for nature and deepen their knowledge of the natural environment. That's why it is a good idea to install plant pots around the classroom in which students can cultivate fragrant flowers that attract butterflies, or even start their own vegetable garden. We can also place bird feeders so children can observe and help animals during winter.