However, to create a functional outdoor play area, we not only need playground equipment but also urban furniture such as benches, litter bins, bicycle stands or picnic tables. Urban furniture may not be as exciting for children as swings, spring riders or climbing sets but thanks to them, the playground is functional and convenient in everyday use.


City Benches
First of all, we should think about arranging a comfortable place to sit for the parents. When it comes to designing a seating area, the most popular item of urban furniture is obviously a bench with a backrest. If your playground is rather small, just a few benches will suffice. However, if a recreational area is larger, it is worth trying other solutions and creating a complex relaxation area for the adults.


LET'S CHECK OUR IDEAS!


1. Benches and tables

A set consisting of two benches and a table is a functional combination where parents can comfortably sit, read a book or eat while their children are having fun on the playground. Depending on the style of your recreational area, you can choose either the natural wooden sets made of robinia or the modern metal constructions.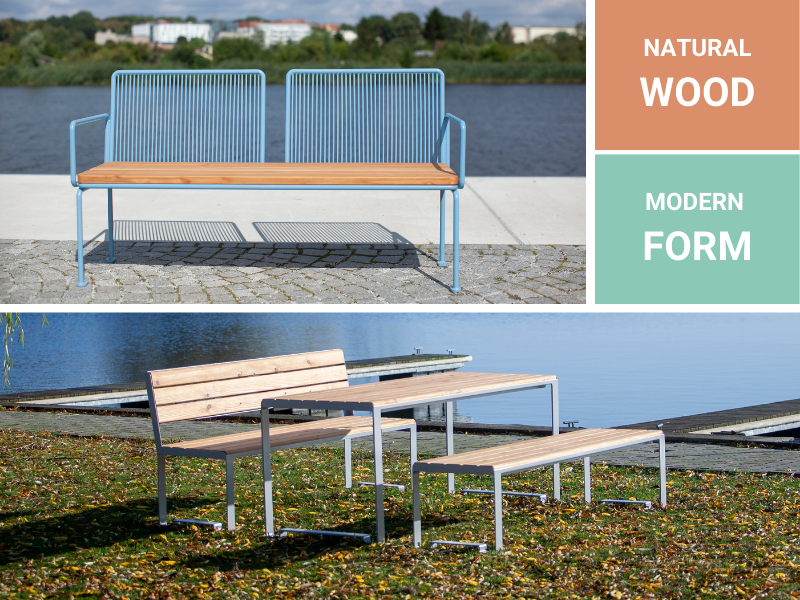 We also offer steel bench-table combinations with wooden or HPL seats. These sets are practical and compact solutions to arrange a perfect picnic spot. In our offer, you can also find the accessible table-bench combinations with a longer tabletop. Thanks to its design, a person who uses a wheelchair can comfortably sit at the table.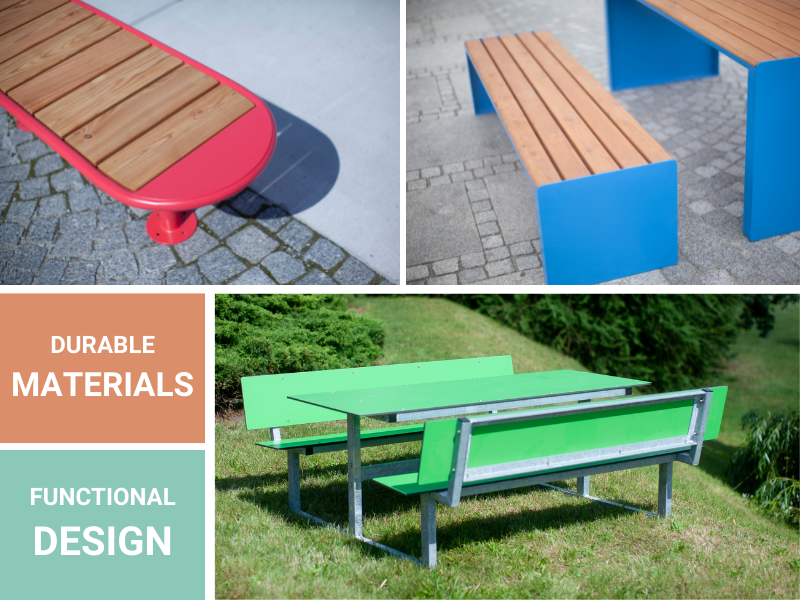 2. Loungers and Hammocks
You cannot imagine more comfortable urban furniture than hammocks or loungers. If such a place to relax is waiting for the parents, children can really spend even the whole day on the playground! If apart from benches, picnic tables and hammocks, you plan to arrange for a fireplace too, our wooden seats made of durable robinia will be a perfect addition.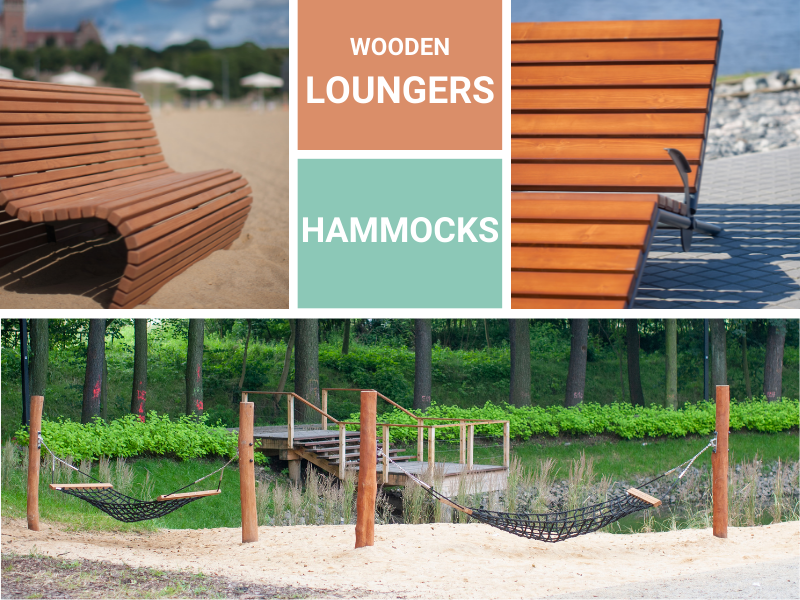 3. Children's Corner
Children also need a place where they can rest a bit after the intensive hours of playing on the playground. Our small stools, chairs and tables will help you arrange a relaxing place for them too. We even designed a small picnic table-bench combination for children.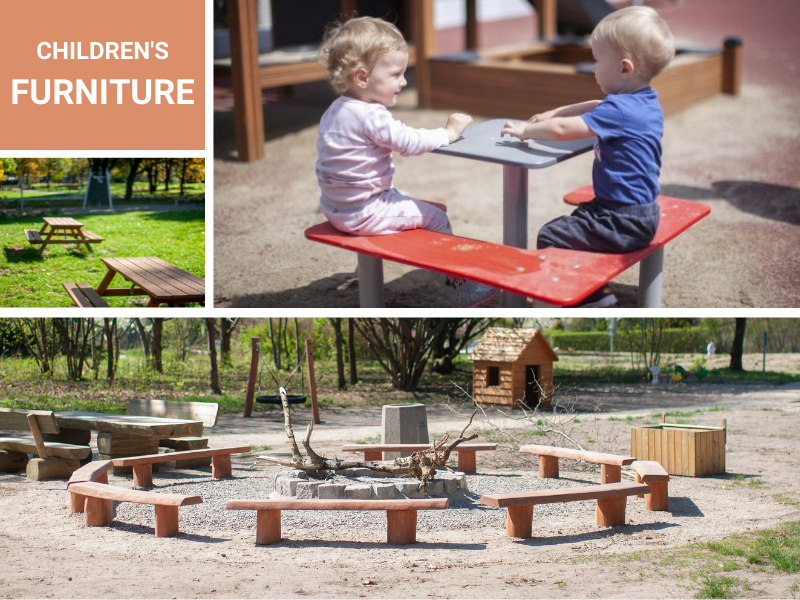 Gazebos and Sunshades
Especially during summer, it is important to protect children from the scorching sun, so it is worth installing a sunshade above the sandbox. A wooden gazebo is also a good shelter - not only for children to rest a bit after playing but also for their parents to chat, grill, eat and relax while staying out of the sun. Our gazebos are made of durable robinia wood which looks aesthetic and will last for years. To make the grill shelter more comfortable, you can install robinia seats and benches inside.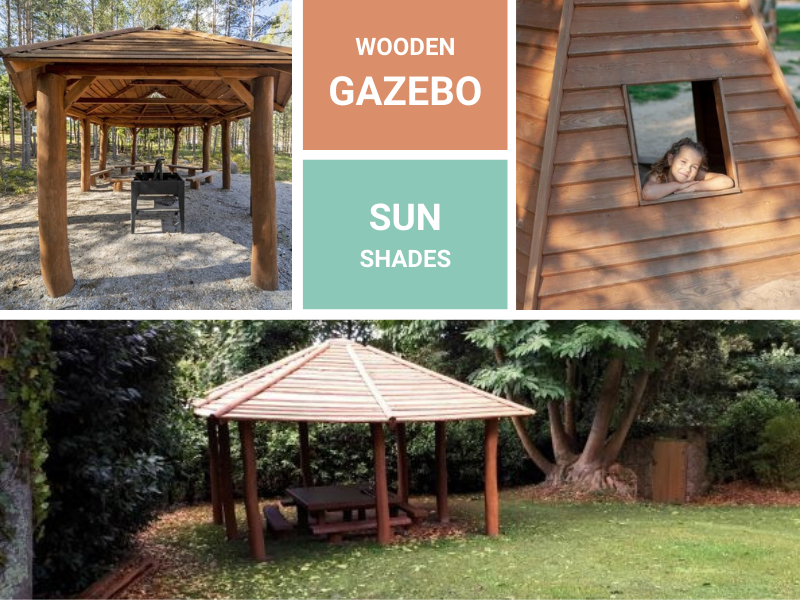 Open Air School
One of our new ideas is a set of urban furniture to design a small outdoor classroom. The set includes wooden benches for students, a desk for teachers and a real chalkboard. Children are protected from the sun by shades installed on the wooden stilts. To make the outdoor classroom more attractive in the eyes of children, high robinia pals are designed in the form of large crayons and covered in bright rainbow colors.




Litter Bins
A necessary element of any public space and a reliable assistant in keeping order and collecting trash. The litter bin is a piece of urban furniture that you cannot forget about when designing the playground. Our offer includes many types of aesthetic public waste containers made of durable steel.

Bicykle Racks
A bicycle is becoming a more and more popular means of transportation, so bike stands are now an indispensable element of the urban landscape, including playgrounds. Thanks to the bike stands, parents and children can conveniently park their two-wheelers. We offer several types of bicycle stands made of galvanized or powder-coated steel: horizontal "ladder" stands, u-racks, as well as roofed bike parking lots.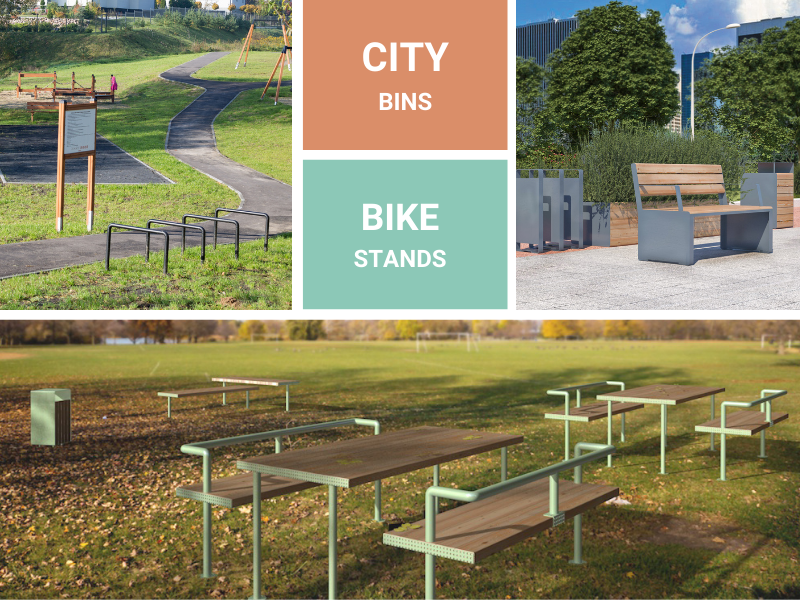 Information Boards
Let's not forget about the sign with playground rules. Depending on the play area design, you can choose an information board made of larch wood or a modern one made of powder-coated steel.


With our full range of urban furniture and play-related items, we will help you design a complete, functional, and aesthetic playground!